C Purlin Roll Forming Machine with Stacker (NTK-CZ-NS)
It is a customized C Shape Roll Forming Machine that used to make various C purlins from 2.5mm to 5.0mm, it includes a 10 tons hydraulic uncoiler, leveling station, 6 sets punch unit, fully automatic gearbox driven 5mm C purlin roll former with fly cutter, and automatic stacking machine.
All motors, PLC, control panel of this roll former adopts Siemens brand. Its maximum speed is up to 30-40m/min including cutting and punching.
As the leading and biggest C&Z Purlin Machine manufacturer in China, on average we have delivered 180-200 sets Purlin Machines each year in the past 5 years, also we are the only factory to supply fully automatic type in China.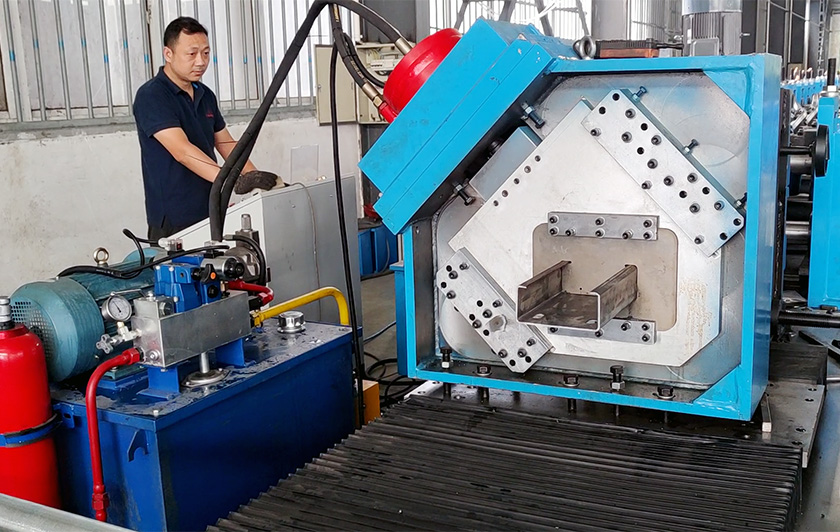 C Purlin Roll Forming Machine
The size change of this purlin roll forming machine is controlled by PLC and operated on control panel, fully automatic. Also we have other types roll former, such as NTK-CZ-300A fully automatic CZ purlin machine, NTK-CZ-300 semi automatic CZ machine, and NTK-CZ-400 for 400mm width/4mm purlin machine.
1. Raw material: galvanized sheet, black sheet; 2.5-5.0mm
2. Product size: 80-300/ 40-100/10-20mm (can be customized)
3. Machine speed: 30-40 m/min (fly cut, with stacker)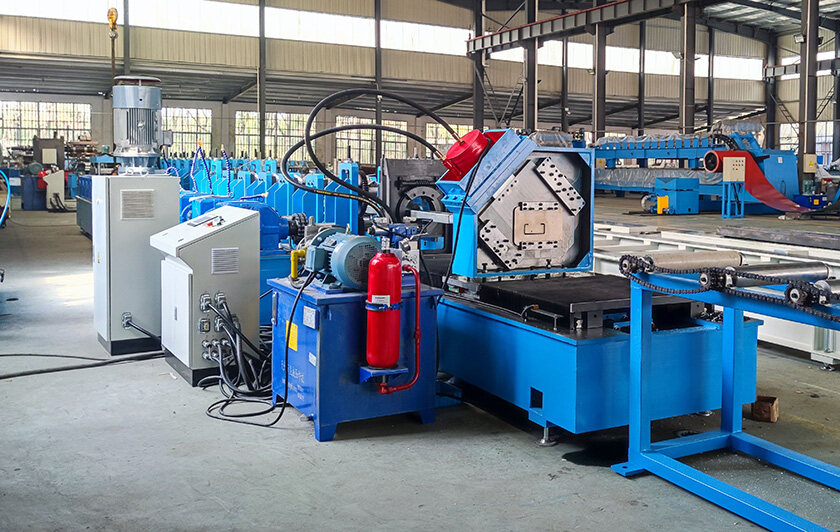 C purlin roll forming machine process: purlin steel strip put on the machine uncoiler, then it goes to the main roll former to forming into the C shape profiles station by station, then goes to punching and cutting system. During the whole process, the C purlin roll forming machine running in fully automatic and it controlled by the PLC. The production is continuous and the efficiency is high. The purlin machine also can add with fly cut system, automatic C purlin, CZ purlin stacking machine, and automatic steel, purlin wrapping machine.
C-beam equipment roll C steel purlin profile has a good stretch bending pressure performance straightness is good, completely automatic fixed-length cutting, automatic punching, high degree of automation, convenient installation, the product can be used as the main body of large and medium-sized industrial and civil construction mechanical structure, such as factories, warehouses, engine garages, hangar, exhibition halls, theaters, sports venues, markets, mounted flat roofing load-bearing load and wall Brace.
Fly Cut Purlin Roll Forming Line Main Components
10 tons Hydraulic Uncoiler
1. Type: single head hydraulic uncoiler with coil car
2. Load capacity: 10T
Servo Motor Feeding 6 Stations Pre-punch
1. Punch molds: 6*2, it can punch maximum 12 different holes each time.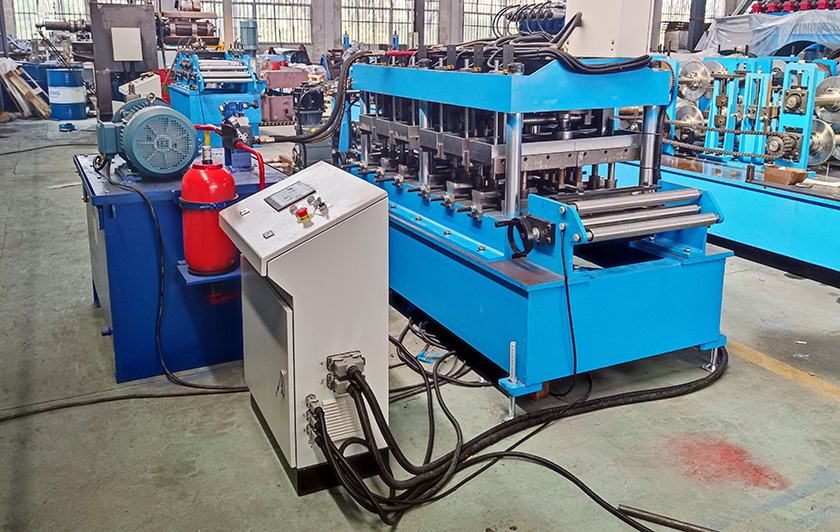 Purlin Main Machine
1. Roller material: D3 with heat treatment, polishing and galvanizing.
2. Main motor: Siemens motor
3. Size Change: size change also controlled by PLC and set through touch panel, continuously adjustable.
5. All motors, PLC, control panel are Siemens brand.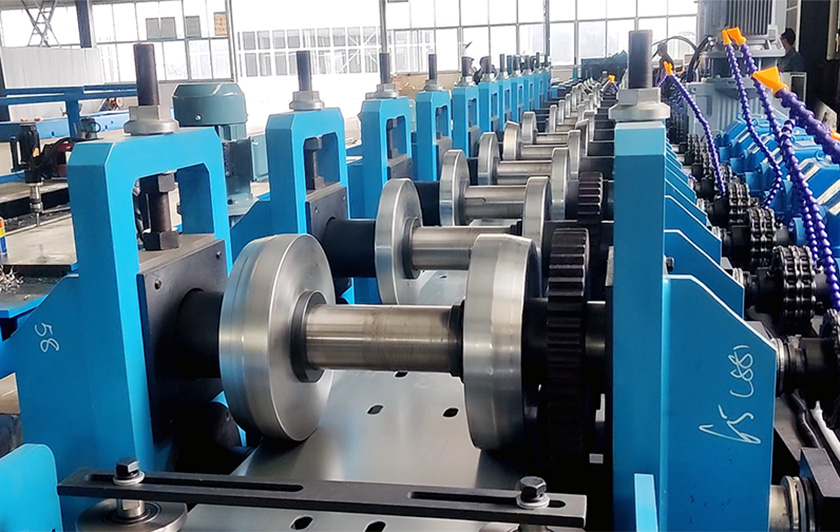 Fly Cut
1. Adopts fly cut, cutting while machine not stop.
2. Universal cutters for all purlin sizes.
3. Cutting length, cutting pieces, and punching are controlled by PLC.
1. Length: 12 meters or customized
2. Stacking quantity: Max. 3 pieces per layer
3. With automatic chain conveyor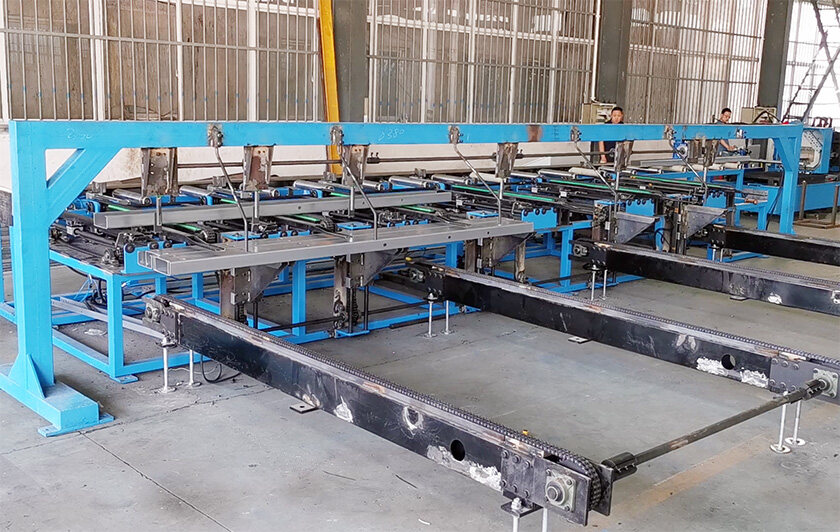 C Purlin Roll Forming Machine Type:
Galvanized parts C shape purlin roll forming machine, cable tray C profile forming machine, glass slot C profile machine, C-shaped steel machine for glass curtain wall, wire trough C roll forming machine, C steel machine for reinforced, unilateral C steel forming machine, straight-sided C channel roll former, inner curled C prulin roll forming machine, C roll former machine for beveled edge on roof, U profile steel machine for automobile beam, highway column heavy duty C purlin machine, formwork support large size C U purlin machine, U steel roll forming machine for equipment, etc.
Types of anti-seismic C profile roll forming machines:
One-sided anti-seismic C-shaped steel machine
What it produces is a crimped serrated C-shaped steel with a porous lipped C channel on the back, which is designed to be flexible and easy to install. Multiple C steel section heights can be installed with various specifications of pipes, air ducts and bridges, which are economical and practical.
Stay Cable Seismic C purlin steel roll former:
It is mainly used to produce the C purlins without back holes, which is used for the connection between the anti-seismic inclined support and the support body, and the angle can be adjusted arbitrarily, which plays the role of shock absorption and energy absorption.
Material: 2.0 mm is made of 275 g SGC340 galvanized sheet, the surface zinc layer thickness is 20 microns, and it is produced according to JISG3302 standard. Other anti-corrosion treatments: hot-dip galvanized, epoxy sprayed, stainless steel.
Other Type Purlin Roll Forming Machines:
Fully Automatic C Z Purlin Roll Forming Machine https://www.czpurlinmachine.com/fully-automatic-cz-purlin-roll-forming-machine/
Semi Automatic CZ Purlin Roll Forming Machine https://www.czpurlinmachine.com/automatic-cz-purlin-roll-forming-machine/
C Purlin Machine with Stacking Machine, etc. https://www.czpurlinmachine.com/fully-automatic-c-purlin-machine/
Pre-Punch, Pre-Cut CZ Purlin Machine. https://www.czpurlinmachine.com/pre-cut-cz-purlin-machine/
Purlin Stacking Machine. https://www.czpurlinmachine.com/purlin-stacking-machine/
Purlin/ Tube Packing Machine. https://www.czpurlinmachine.com/steel-wrapping-machine/
U Purlin Roll Forming Machine: https://www.czpurlinmachine.com/u-purlin-roll-forming-machine/
Specification
Technical Specification of Customized (NTK-CZ-NS) Purlin Machine
Raw Material

Type

Galvanized Sheet, Black Sheet

Thickness

2.5-5.0mm

C Purlin Size

Web x Flange x Lip

80-300/ 40-100/ 10-20

Z Purlin Size

Web x Flange x Lip

80-300/ 40-100/




Performance




Speed

30-40m/min (fly cut)

C & Z Interchange

PLC Control, Fully Automatic

Size Change

PLC Control, Fully Automatic

Uncoiler

Type

Single Head Hydraulic

Capacity

10 T




Main Machine




Main Roller Station

18

Main Drive

Siemens Motor

Transmission Type

Gearbox




Punching & Cutting




Punching Location

Pre-Punch, Web/ Flange

Punching Unit

6*2 Sets

Cutter Type

Universal Cutter, Fly Cut