CZU Purlin Roll Forming Machine with Fly Cut
The NTK-CZU-200AF Purlin Roll Forming Machine is used to produce variuous C/Z/U steel profiles, the main machine is driven by gearbox and the universal cutter adopts fly cut. Its speed is designed as 30-40 m/min including cut, with automatic stacker.
All motors, PLC, control panel of this line adopts Siemens brand.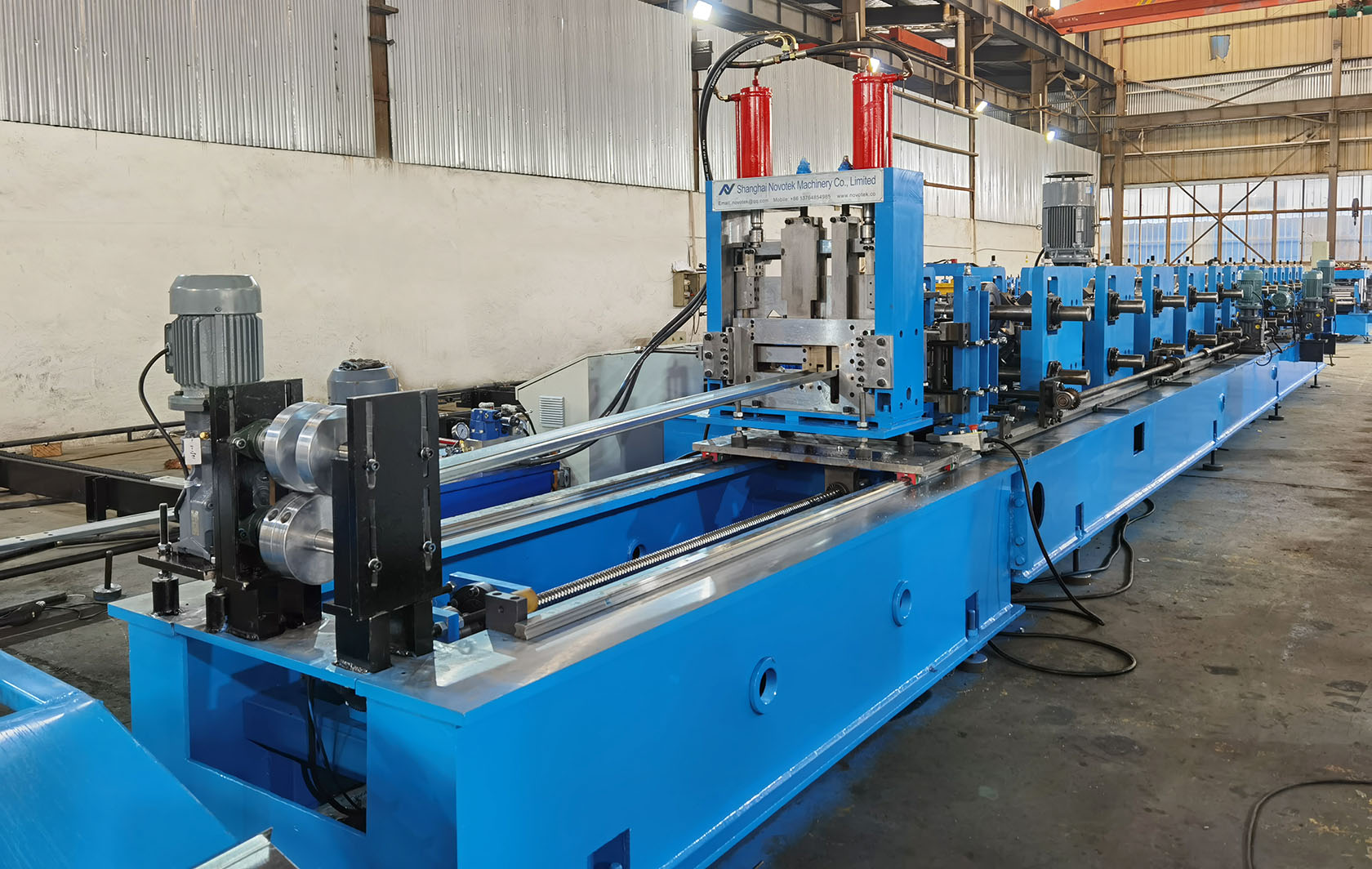 Fully Automatic C Z Purlin Machine (NTK-CZU-200AF)
C/Z/U interchange and size change of NTK-CZU-200AF all are controlled by PLC and operated on control panel, fully automatic. Also we have other types, such as NTK-CZ-300A fully automatic CZ purlin machine, NTK-CZ-300 semi automatic CZ machine, and NTK-CZ-400 for 400mm/4mm purlin machine.
1. Raw material: galvanized sheet, black sheet; 1.5-3.0mm
2. Product size: 80-200/ 30-60/10-20mm (web/ flange/ lip)
3. Machine speed: 30-40 m/min (fly cut, gearbox drive)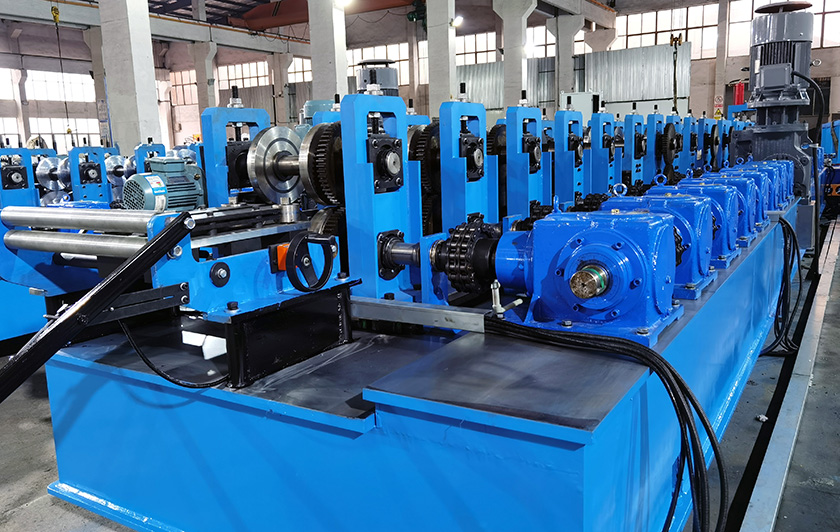 Fly Cut Purlin Roll Forming Line Main Components:
Double Head Hydraulic Uncoiler
1. Type: Double head hydraulic uncoiler with coil car
2. Load capacity: 6T
Servo Motor Feeding 6 Stations Pre-punch
1. Punch molds: 6*2, it can punch maximum 12 different holes each time.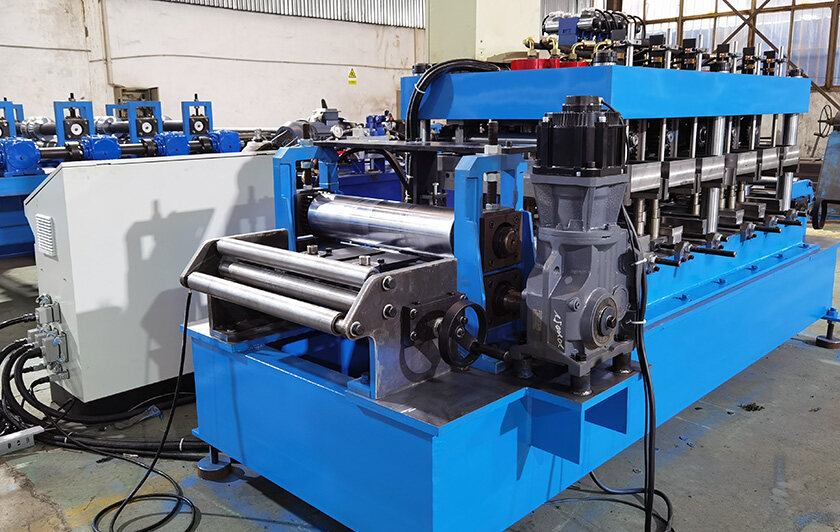 Purlin Main Machine
1. Roller material: GCr15 with heat treatment, polishing and galvanizing.
2. Main motor: Siemens motor
3. CZ Interchange: interchange between C and Z purlins controlled by PLC and set through touch panel.
4. Size Change: size change also controlled by PLC and set through touch panel, continuously adjustable.
5. All motors, PLC, control panel are Siemens brand.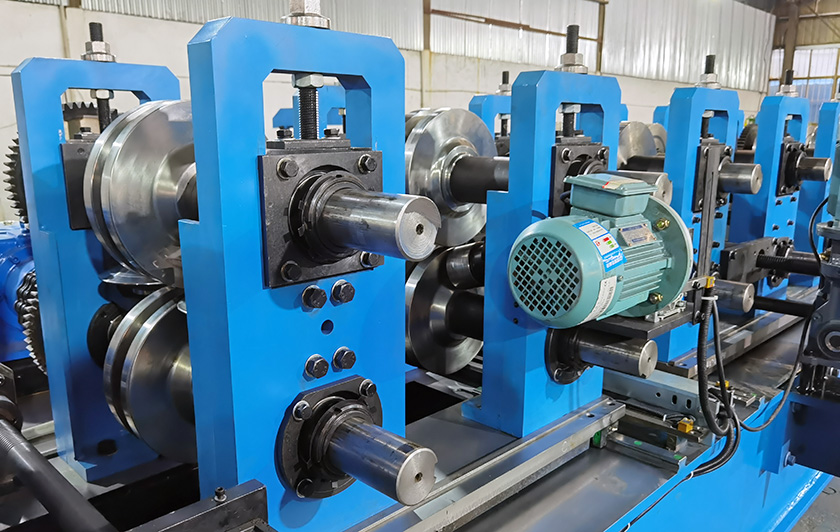 Fly Cut
1. Adopts fly cut, cutting while machine not stop.
2. Universal cutters for all purlin sizes.
3. Cutting length, cutting pieces, and punching are controlled by PLC.
As the leading and biggest C&Z Purlin Machine manufacturer in China, on average we have delivered 180-200 sets Purlin Machines each year in the past 5 years, also we are the only factory to supply fully automatic type in China.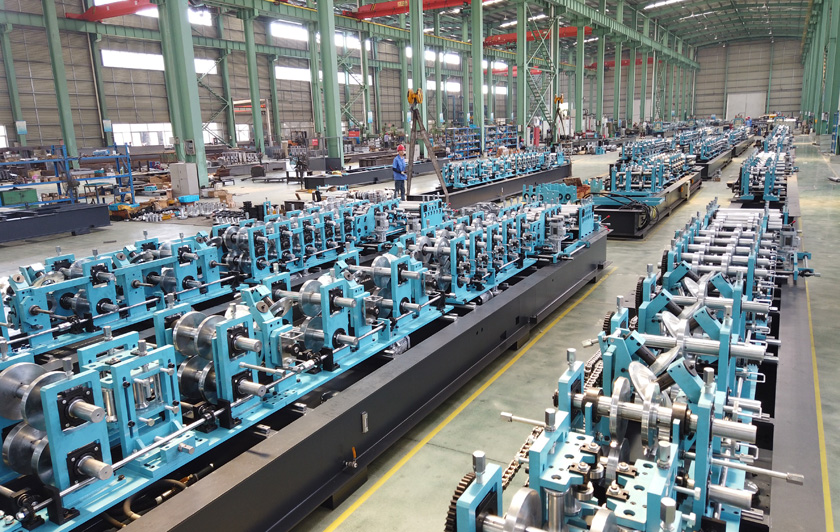 C Purlin Roll Forming Machine
C-section steel can be made very thin by the lipped C channel roll forming machine, and the production process is greatly simplified and the production efficiency is improved. It can produce all kinds of C shape profiles with uniform wall thickness but complex section shape and cold formed steel of different materials which are difficult to produce by general hot rolling method.
C Purlin Machine
Z type steel equipment is a set of roll forming machine that can produce a variety of specifications of Z type standard bar products of the single roll forming machine. This machine mainly consists of uncoiler, leveling device, punching device, cutting device after forming, hydraulic station, computer control system, etc.
Other Type Purlin Roll Forming Machines:
Fully Automatic C Z Purlin Roll Forming Machine https://www.czpurlinmachine.com/fully-automatic-cz-purlin-roll-forming-machine/
Semi Automatic CZ Purlin Roll Forming Machine https://www.czpurlinmachine.com/automatic-cz-purlin-roll-forming-machine/
C Purlin Machine with Stacking Machine, etc. https://www.czpurlinmachine.com/fully-automatic-c-purlin-machine/
Pre-Punch, Pre-Cut CZ Purlin Machine. https://www.czpurlinmachine.com/pre-cut-cz-purlin-machine/
Purlin Stacking Machine. https://www.czpurlinmachine.com/purlin-stacking-machine/
Purlin/ Tube Packing Machine. https://www.czpurlinmachine.com/steel-wrapping-machine/
U Purlin Roll Forming Machine: https://www.czpurlinmachine.com/u-purlin-roll-forming-machine/
Specification
Technical Specification of NTK-CZU-200AF Purlin Machine
Raw Material

Type

Galvanized Sheet, Black Sheet

Thickness

1.5-3.0mm (1.2-3.2mm)

C Purlin Size

Web x Flange x Lip

80-200/ 30-60/ 10-20

Z Purlin Size

Web x Flange x Lip

80-200/ 30-80/ 10-20




Performance




Speed

30-40m/min (fly cut)

C & Z Interchange

PLC Control, Fully Automatic

Size Change

PLC Control, Fully Automatic

Uncoiler

Type

Double Head Hydraulic

Capacity

6 T




Main Machine




Main Roller Station

18

Main Drive

Siemens Motor

Transmission Type

Gearbox




Punching & Cutting




Punching Location

Pre-Punch, Web/ Flange

Punching Unit

6*2 Sets

Cutter Type

Universal Cutter, Fly Cut