Fully Automatic CZ Purlin Roll Forming Machine
NOVOTEK manufactured fully automatic ※ CZ Purlin Roll Forming Machine 2023 ※ , also called fast change C/Z Purlin Interchangeable Making Machine or C & Z Lipped Channel Roll Forming Machine, is used to produce both C profile and Z profile with various sizes, in different thickness, and available to punch either on purlin web or flange side.
Introduction of NTK-CZ-300A Full Automatic CZ Machine:
The CZ channel Interchange unit and Size Change unit of NTK-CZ-300A Fully Automatic CZ Purlin Machine both are controlled by PLC and change by set on touch panel. Also we have Semi Automatic CZ Purlin Machine available.
1. Raw material: galvanized sheet, black sheet; 1.5-3.0mm
2. Product size: C Purlin 80-300mm & Z Purlin 120-300mm (also we have NTK-CZ-400 available)
3. Machine speed: Max. 30 m/min (by servo motor driven)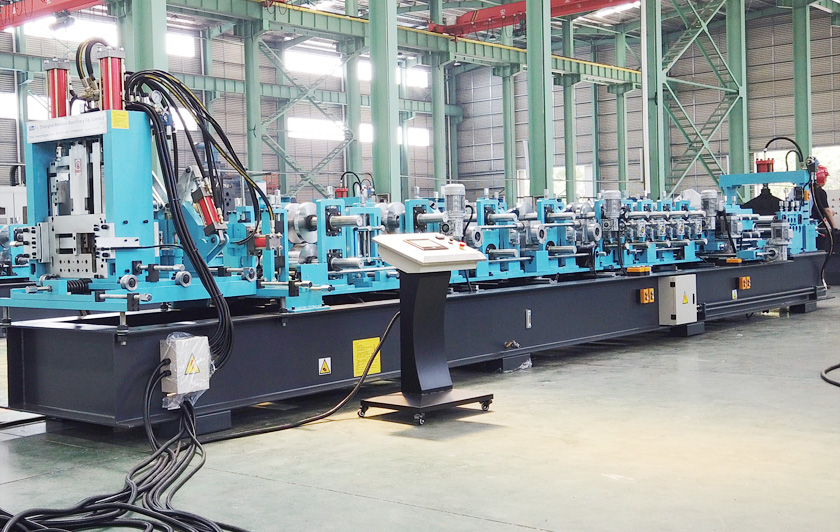 Purlin Roll Forming Machine Main Components:
Uncoiler
1. Type: Mechanical Uncoiler, Hydraulic Uncoiler
2. Load capacity: 6T
Purlin Machine
1. Roller material: GCr15 with heat treatment, polishing and galvanizing.
2. Main motor: hydraulic motor or servo motor drive
3. CZ Interchange: interchange between C and Z purlins controlled by PLC and set through touch panel.
4. Size Change: size change also controlled by PLC and set through touch panel, continuously adjustable.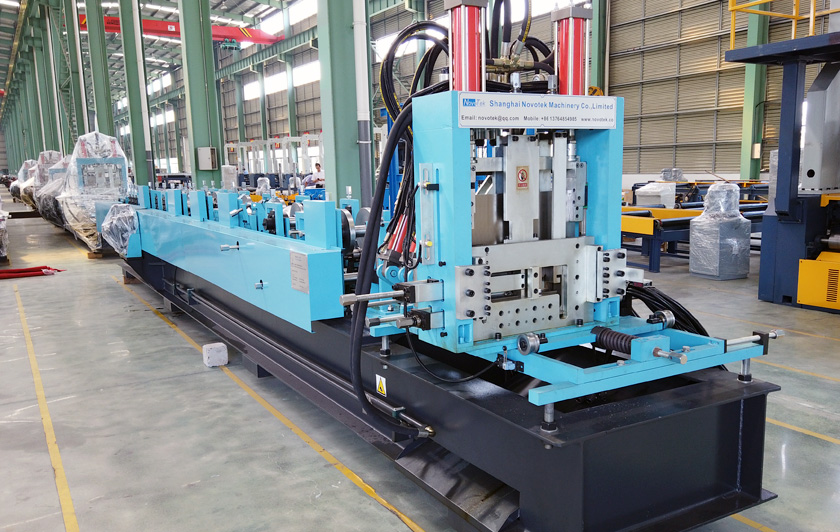 Hydraulic Punching & Universal Cutting System
1. Punching unit: 3 sets + 2 sets
2. Universal cutters for all C and Z purlin sizes.
3. Cutting length, cutting pieces, and punching are controlled by PLC.
As the leading and biggest C&Z Purlin Machine manufacturer in China, on average we have delivered about 300 sets Purlin Machines each year in the past 5 years, also we are the only factory to supply fully automatic type in China.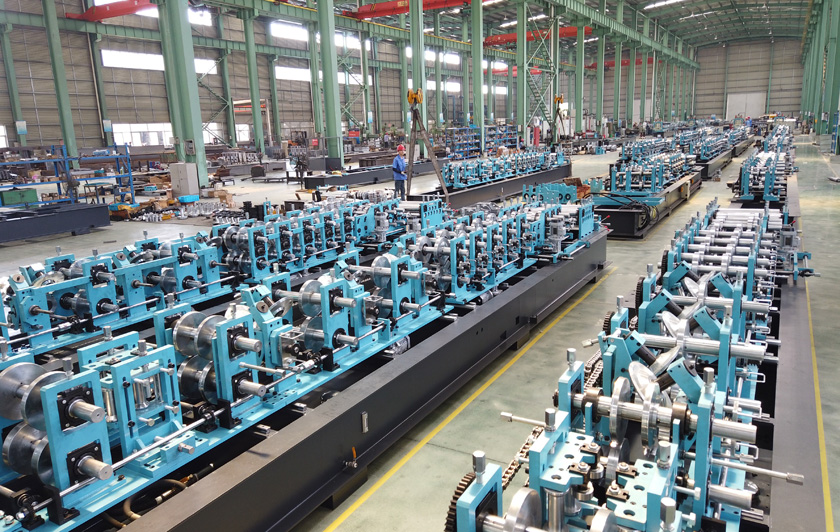 Lipped Channel Purlin Roll Forming Machine
The fully automatic CZ all-in-one roll forming machine is a great progress in the steel structure industry.
The main features of the automatic purlin roll forming machine are as follows:
1) Universal cutter for all sizes C Z U purlins.
2) Fast change, any type purlin changes within minutes
3) Adjustability. The purlin web, flange and lip can be adjusted, in millimeters;
4) Through shaft CZ machine design reduces the problem of uneven heights on both sides caused by broken shafts.
5) C, Z shape purlin profile is made of high-strength steel plate after cold pressing, and has the characteristics of uniform wall thickness, adjustable size and high compressive strength.
6) The C and Z steel bars can reduce the weight of building roofs and reduce the amount of steel used in engineering, so they are economical steels and new building materials to replace traditional steel bars such as angle steel, channel steel and steel pipe. The use of Z purlin bars and light metal tiles is the best choice for light steel buildings, warehouse structures, etc.
Other Type Purlin Roll Forming Machines:
C Purlin Machine with Stacking Machine, etc. https://www.czpurlinmachine.com/fully-automatic-c-purlin-machine/
Pre-Punch, Pre-Cut CZ Purlin Machine. https://www.czpurlinmachine.com/pre-cut-cz-purlin-machine/
Purlin Stacking Machine. https://www.czpurlinmachine.com/purlin-stacking-machine/
Purlin/ Tube Packing Machine. https://www.czpurlinmachine.com/steel-wrapping-machine/
U Purlin Roll Forming Machine: https://www.czpurlinmachine.com/u-purlin-roll-forming-machine/
Specification
Technical Specification of NTK-CZ-300A Purlin Machine
Raw Material

Type

Galvanized Sheet, Black Sheet

Thickness

1.5-3.0mm (1.2-3.2mm)

C Purlin Size

Web x Flange x Lip

80-300/ 30-80/ 10-20

Z Purlin Size

Web x Flange x Lip

120-300/ 30-80/ 10-20




Performance




Speed

Max. 30m/min (by servo motor driven)

C & Z Interchange

PLC Control, Fully Automatic

Size Change

PLC Control, Fully Automatic

Uncoiler

Type

Mechanical or Hydraulic

Capacity

6 T




Main Machine




Main Roller Station

18

Main Drive

Hydraulic Motor or Servo Motor

Transmission Type

Chain




Punching & Cutting




Punching Location

Web + Flange

Punching Unit

3 Sets + 2 Sets

Cutter Type

Universal Cutter